Register Now!
For This Instant Access Course With Indefinite Access
Taught by Two Published Illustrators
Sandie Sonke and Dr. Mira Reisberg
Master the Ins and Outs of ProCreate for Your iPad
with One Easy Peasy Start Today Course

---
With ProCreate for your iPad you can easily, draw, insert, tweak and create spellbinding art and illustrations and save them for sending and submitting to editors, publishers and agents. This course is a game-changer because you can do fabulous fast art indistinguishable from traditional media in a fraction of the time and without any mess! It's amazing and Art Directors love it!

All You Need Is:

An iPad

A iPencil Pen

Your Imagination
MEET YOUR TEACHERS

Sandie Sonke

Sandie Sonke is a Southern California native and a Cal State University Fullerton grad with a degree in studio art. She finds joy simply sketching in her sketchbook or drawing tablet. A wearer of many hats; she is a freelance illustrator, wife, and mom to two sweet and silly kids who inspire her daily. Sandie loves to create whimsical and colorful illustrations. Her hope is to bring a little happiness to those who view her work.

And Mira Reisberg


Dr. Mira Reisberg is a multi-published award-winning children's book illustrator and author whose books have sold over 600,000 copies. Besides running the Children's Book Academy, she is also an acquiring Editor and Art Director at Clear Fork Publishing's children's book imprint Spork. Mira is a former children's literary agent, and a former university professor who taught kid lit writing and illustrating courses as well as teacher ed. She has a PhD in Education and Cultural Studies with a focus on children's literature and has helped MANY writers and illustrators get published. Her job at Spork allows her to help even more people.
Sandie used ProCreate to illustrate her most recent book, Scarlet's Magic Paintbrush, written by another former student Melissa Stoller and is in the process of illustrating the sequel.


Mira used Procreate to illustrate her most recent book, You Can . . . (A Book of Verbs in Verse)


You'll learn all the tools and tricks you need to create lovely images of your own art quickly and effortlessly plus it's really fun!

Enroll Now and Get Started Today!
Since this is an instant-access course you can begin and complete it at your leisure. Click Marge - the You Can Do It Bear Button below and start mastering easy, super-rewarding children's book illustration today for only $76 with Procreate and the Children's Book Academy. You'll love it!!!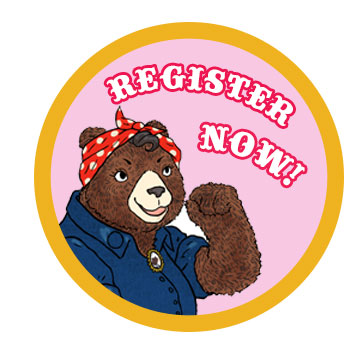 Frequently Asked Questions
What kinds of formats will there be?
Most of our courses are a combination of lessons, worksheets, and interviews with experts. Sometimes these are in video format, other times not. With interactive courses, there is also a very active Facebook community page and weekly critiquing webinars, making it very lively and lots of fun. It is a multi-modal approach that works well for different people learning styles.
Who will benefit from this class?
Anyone who has a passion or interest in writing or illustrating books for children.
When does the class start?
If this is an instant access course, access starts today for a full year. If it is an interactive course, the dates will be towards the top of the page with 6 months of additional access, which often ends up being much more. Interactive courses also often include an e-book of course materials.
Are there any specific time requirements?
No. The only time sensitive areas are if you are in an interactive course and want to submit your work for a live webinar critique, there is a specific deadline, and if you join one of the optional critique groups you need to honor your group's critiquing timeline. The weekly webinars also happen at a specific day and time provided in advance, but if you can't make it live, they are also recorded for later viewing.
Do you offer refunds?
We are so sorry, but there are no refunds. Because we give bonus passwords or access to the course at the time of purchase, it is impossible to offer refunds. We appreciate your understanding. However, we do offer a 100% learning money back guarantee for interactive courses, that if you read the lessons, participate and do the work, and at the end of a year, don't feel that you learned a lot, we will refund your money in full.
What do I do if I have further questions?
You can email Mira directly at
[email protected]
with the title of the course in the subject head.