CALLING ALL CHILDREN'S BOOK WRITERS & ILLUSTRATORS!
Have you always wanted to write a novel but don't know where to begin?

Are you an established writer seeking fresh approaches to open new doors?

Are you an illustrator looking to enter the middle grade market?

Want to master middle grade novels?


See your dreams become real in this highly-interactive online course & talent search- complete with wonderful opportunities to submit to editors & agents!
Starting May 13th 2019 for 4 Gloriously Interactive Weeks + 2 Instant Access Bonus Weeks!!

MEET YOUR DEDICATED CO-TEACHERS

Hillary's career is zooming! She is the author of the middle grade novels, Queen of Likes (Simon & Schuster/Aladdin M!X), PUMPKIN SPICE SECRETS (Sky Pony/Swirl), Things Are Gonna Get Ugly (Simon & Schuster/M!X), a Justice Book-of-the-Month, optioned by Priority Pictures, as well as The Hot List (Simon & Schuster/M!X). She has a new chapter book series with Charlesbridge, including Ellie May on President's Day and Ellie May on April Fools Day. Her humorous chapter book series, Alien Clones from Outer Space (Simon & Schuster/Aladdin), was developed into an animated television series and sold to ABC Australia. Besides teaching at the Children's Book Academy, Hillary is a visiting professor of children's literature at Hollins University. Visit her on the web at www.hillaryhomzie.com and follow her on twitter @HillaryHomzie. She is excited to be co-teaching this course sharing her expertise to help others succeed with their work.

Rachael is a voracious reader, children's books fanatic, and Editor at Sterling Children's Bookswhere she acquires and edits books for kids of all ages, including picture books, chapter books, middle grade, and young adult and both fiction and nonfiction. Some of the amazing authors she works with are Linda Sue Park, Gary D. Schmidt, Kate Milford, Ronald L. Smith, and Sarah Beth Durst. Before joining the Sterling team in 2018, Rachael worked at Houghton Mifflin Harcourt, Scholastic, Lee & Low Books, Macmillan, and Fox Literary. For more bookish fun, you can follow her on Twitter: @rachaeljstein.
We first met Rachael when she joined us as a guest critiquing editor in one of our picture book critiquing webinars and she also did some individual critiques for students. She was so incredibly smart and adored by students, we invited her to co-teach this course and we are thrilled that she said YES!!!. It should be pretty extraordinary.

Dr. Mira Reisberg
is an acquiring Editor and Art Director at Clear Fork Publishing's children's book imprint Spork and a multi-published award-winning children's book illustrator and author whose books have sold over 600,000 copies. Besides running the Children's Book Academy, she is also a former children's literary agent, and a former university professor teaching kid lit writing and illustrating courses as well as teacher ed. Mira has a PhD in Education and Cultural Studies with a focus on children's literature and has helped MANY writers and illustrators get published. Her job at Spork allows her to help even more people.
Just listen to what our previous Middle Grade Mastery students/soon to be published authors have to say about the course that may just change your career!


Andrew Sass author of Water for Anna on the Edge coming out 2020!!
Donna Barba Higuera author of Lupé Wong Won't Dance coming out 2020!
---
WHAT YOU GET WHEN YOU SIGN UP FOR MIDDLE GRADE MASTERY
Learn proven track-record middle-grade writing and illustrating skills that apply across the board to build confidence in your writing and open new doors.
Pitch to a group of editors and agents HUNGRY FOR QUALITY MIDDLE GRADE NOVELS.
Learn business skills that will help you advance your career.
Have fun stretching and growing as a writer or artist - as well as a person!
Discover and cultivate your author's voice while developing your characters' voices.
Work with your own ideas or, if you don't know where to start, we'll help you in miraculous ways.
Get critique and give critiques with other like minds in your own optional small, private Facebook critique group .
Get cutting edge news and support in our interactive - and very active - private whole-class Facebook group, where you will be able to ask questions and receive answers daily.
Participate in each of the four interactive weeks with SPECIAL GUEST EDITORS AND AGENTS providing feedback on your work and answering questions live. These will be also be recorded, so you can watch it again, and for those who can't attend.
Get exclusive insider interviews with industry experts!
Revel in a like-minded community of children's book creatives who will help you make yourself more attractive to publishers with a growing social media presence.
Have access to the rare opportunity to choose a one-hour, one-on-one critique with your choice of the co-teacher at an extraordinarily low price!
No matter what your learning style, you'll find the course materials presented in a way that suits you - including videos, written articles, "how to" demonstrations, handy worksheets, done-for-you templates, handouts, hand-holding PLUS a ton of bonuses.

(Please don't forget ALL LEVELS have payment plans and use the all caps MGMAGIC code, which is non-refundable if you forget to enter it)
FIRST UP IS THE BIG BONUS LEVEL WITH:
Access to the MANY content-rich lessons plus bonus lessons for the 4 week highly interactive course plus a 2 week long conference & SIX additional months of access
Lifelong access to your own highly interactive private Facebook group
Daily M-F access to your instructors
Live weekly topic-specific workshop/webinars where you can get help with everything you might need to make your work sing and receive live critiques (these are also recorded).
A FREE Social Media course
Fabulous templates, worksheets, and done-for-you scripts
A beautiful CBA badge for your website
The Little Big Book of Children's Book Writing Techniques and Terminology!!!
Your own optional critique group
A FREE e-Book of course content
Entry into the Golden Ticket skip-the-line pitch fest contest where editors, and agents will look at your work and choose students to connect with further
A Half-Off Mighty Scrivener Course that just might revolutionize your writing
Plus other opportunities and goodies too numerous to mention!

The Big Bonus as described above also comes with sweet payment plans if needed!! Right now it's only $557 and with the MGMAGIC CODE IT'S ONLY $487!! Just click on the button above or click here.
NEXT ARE THE SUCCESS LEVELS
These come with everything in the above Awesome Big Bonus - PLUS an ADDITIONAL deeply-discounted, one-hour, one-on-one live critique that's just like an individual mini-course focused on you and your work. These also have sweet payment plans!


This is a rare opportunity to have everything from the Awesome Big Bonus, PLUS work LIVE with the brilliant Hillary Homzie! It's a full one-hour, one-on-one critique where Hillary is laser-focused as she gently leads you to transform your work for success in the current world of publishing! For a limited time, it's only $587 with the MGMAGIC code right here!

Just click here or on the button above for a deeply discounted one-hour live session with Sterling Editor Rachael Stein plus the course and bonuses. Rachael is building her list of authors at Sterling, which is a fantastic opportunity for students. Only $587 with the MGMAGIC code!

Clear Fork/Spork Editor/Art Director Dr. Mira Reisberg will be doing a limited number of success packages. These include the Awesome Big Bonus plus a one-hour intensive critique with Mira. Unfortunately, the extra deep discounts are all gone but there's still a couple at the regular price of $657. Simply click here or on the button above!


AND THEN THERE ARE THE GOLDEN TICKETS!

A Golden Ticket opportunity is when you get to submit directly to an agent or editor and bypass the slush pile or closed house submission policy.
In this course we will be teaching you how to not only write memorable middle great novels but also how to write great bios, and cover letters to catch an agent or editor's eye. Then our panel of judges will look at a secret website page of student's pitches and bios that they're interested in seeing more from to hopefully publish your work.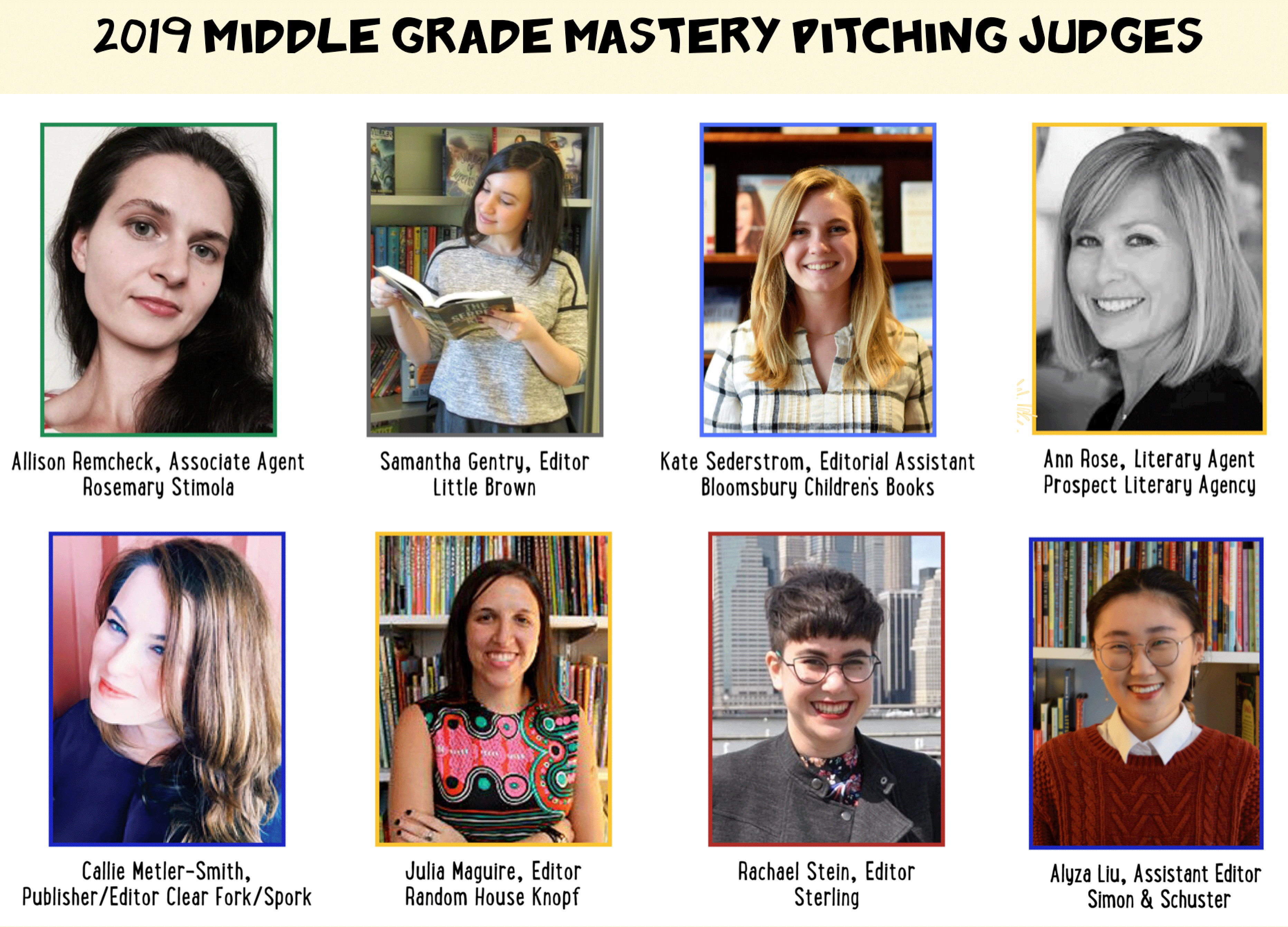 Aida Salazar Author of
The Moon Within
- available now
Whether you are a writer or an illustrator, you don't need a university degree to write or illustrate middle grade novels or chapter books, but it helps to have two acquiring editors and an adored award-winning novelist with a combined total of close to FIFTY years of experience! They will work together to teach you how, with fun step-by-step instructions, in this extraordinary course - for very beginners to award winners - that has helped many others make breakthroughs in their lives and work.

THE WHAT, WHEN, WHERE, HOW, WHY, WHO

What: It's a 4 week (PLUS two bonus weeks!) highly interactive online training program that teaches you just about everything that you need to know about writing, illustrating and publishing middle grade novels and chapter books using multiple approaches, daily lessons, interviews with experts, lots of bonuses, worksheets and so much more!

When: The course starts May 13th 2019 with the first live training happening that night. It's designed to be extremely time flexible so you can access the materials and interact as much or as little as you like. No one is ever in trouble, but the more you can put in the more you'll get out of it. The additional 6 months of access makes it very doable no matter how busy you are. The private Facebook group continues on indefinitely to provide continued support of your children's book goals.

Where: Enjoy Middle Grade Mastery, in the comfort of your own home, a café, the library - anywhere that you can get Internet access. You don't need to travel anywhere for this course, plus you can still take it even if you are traveling.

How: Monday through Friday you will receive fresh lessons and exercises from our expert faculty and contributors. The lessons include tons of resources to guide and help you accomplish your goals. We interact via our private Facebook group where questions are answered and small critique groups are set up for those who want them. Each week special guests join the faculty to critique students work LIVE and answer questions with positive suggestions for how to improve or move their work forward. Times are scheduled to accommodate folks in different countries as much as possible and we also record the webinars for those who can't make it live.
Why: This is the most important one. Although middle grade novels take more time to write, they are more desired by agents and editors because the field is less competitive and they bring in much higher advances. If you want to write or illustrate middle grade novels this is the best value course that you can find to help you successfully get published. No other course can offer more from an extremely talented group of creatives. No other course gives this level of focused attention to each student who participates!!! Step-by-step we walk you through the process. You will also learn about writing realistic fiction, nonfiction, fantasy, mysteries, humor, and heartfelt stories that will help improve all of your writing.

Who: This industry-leading course is co-taught by not one, but two acquiring editors, AND an award-winning author with many years of experience in the publishing industry who love helping others greatly improve their work and break into publishing.
---

No other course can offer more from a more talented group of creatives. Registering for Middle Grade Mastery is a genuinely useful investment in your career with a priceless return on this investment PLUS it comes with a money back guarantee that if you fully participate and do the work, if at the end of a year you don't feel that you learned a lot, we'll give you your money back!
DID YOU KNOW?
Mira's former students now have over 245 contracted or published books and many others now have agent representation.
Many of Hillary's former students have also been published.
And Rachael has also helped many authors bring their stories into the world.
It's VERY thrilling and we'd love for you to join them!!! Also FYI, this is the last year that Mira will be co-teaching this course!

When you sign up for THIS YEAR's Middle Grade Mastery BEFORE APRIL 24th, you will get 2 full courses for the price of one, extra access and these additional courses and the majority of these resources that you can start right away!



As Part of the Course, You will Get These AWESOME BIG BONUSES:
Lifelong access to our own highly interactive and super-supportive private Facebook group
A half-off Mighty Scrivener course
Daily M-F access to your instructors
Live weekly topic-specific workshop/webinars where you can get help with everything you might need to make your work sing and receive live critiques (these are also recorded).
Fabulous templates, worksheets, and done-for-you scripts
A beautiful CBA badge for your website
Your own optional critique group
A FREE e-Book of course content!!!
A FREE EASY-PEASY WEBSITE-BUILDING COURSE
A FREE Social Media Course
A FREE Workinar on Voice

Plus other opportunities and goodies too numerous to mention
And here are some more testimonials:

I have taken several CBA courses, and even though I've become familiar with the high standards of each course offered, I was blown away by this course's offering. The wealth and breadth of material, the insightful training, knowledge and skills I gained cannot be quantified. I feel I want to keep coming back for more, as we are always learning more, and there is always new and refreshing material that is covered. I cannot speak highly enough of Mira and her colleagues. I feel if you want to become a children's writer, then CBA is your surest route to fulfilling your dream. - Shirin Shamsi (now contracted for her debut middle grade novel)

Money being a tight resource, it was crucial that I enroll in a class that would benefit me the most. Being that I'm not an outliner/plotter made it even harder to find the right one. I read about the Middle Grade Mastery course on one of the blogs I follow. I did my due diligence and checked it out. Not a bad review was to be found (I usually look at the bad reviews first). I decided to give it a go and I'm glad that I did. I have not been disappointed. The team is helpful, thoughtful, knowledgeable, and patient. The curriculum is concise and comprehensive. It is designed to augment whatever type of writing style you utilize. I now have the tools and knowledge to write longer, sustainable stories. Oh, and my critique partners were awesome! Many thanks to Mira, Hillary, and Rachael, you are the cat's meow! - Vicki Hammond
There is so much practical information shared by Mira Reisberg, Hillary Homzie, and Rachael Stein in this class. It covers structure, plot, characters, setting, genres, pitches, bios -- everything. I wish I would have taken this class when I first started writing children's lit. It would have saved a lot of heartache. - Rosalind Malin


Learn More About: Victoria Wells Arms and Wells Arms Literary, visit: WellsArms.com • Sean McCarthy and Sean McCarthy Literary, visit: McCarthyLit.com • Phoebe Yeh VP/Publisher of Crown Books for Young Readers

Learn More About: Leila Monaghan Publisher at Elm Books, visit: Elm-Books.com • Emma Sector formerly with Simon and Schuster Publishing now with Prospect Literary Agency, visit: http://www.prospectagency.com/about.html Veronica Schneider Lee & Low Books Literacy & Sales Agent, visit: LeeAndLow.com

Learn More About: Award-Winning Author Naheed Hasnat Senzai at NHSenzai.com • Lisa Brown, Author/Illustrator at AmericanChickens.com • Multi-Award Winner Andrea Davis Pinkey at AndreaDavisPinkey.com

Learn More About: Jennifer Lynn Alvarez, Series Author at JenniferLynnAlvarez.com • Mike Jung, Author at CaptainStupendous.Wordpress.com • Multi Award-Winning Author Christine Taylor-Butler at ChristineTaylorButler.com

Learn More About: Natasha Yim Author of Middle Grade Biographies at NatashaYim.com • Award-Winning Author Meg Medina at MegMedina.com • Multi Award-Winning Author Alma Flor Ada at AlmaFlorAda.com
These are just some of our expert guest contributors for Middle Grade Mastery who will speak to you in custom created videos and written interviews!
They'll be sharing their perspectives on everything from writing tips and secrets on how they have built their careers, researching and writing non-fiction and fiction, what they look for in submissions, and so much more.
Class Curriculum
Week 1
Available in days
days after you enroll
Week 1 Monday
Available in days
days after you enroll
Week 1 Tuesday
Available in days
days after you enroll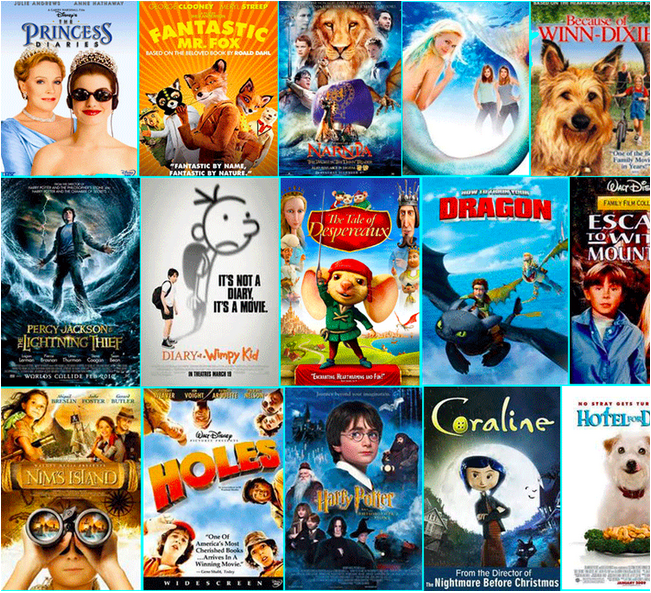 Can you guess what all these movies have in common?
Yep, they were all chapter books or middle grade novels.
If you take this course, you'll see we work incredibly hard for you. All we ask is that if you get published, you send us an autographed copy of your book or if it becomes a movie, we get to join you in a premiere somewhere :)
This is a once in a lifetime opportunity and yet it is a truly affordable one for all that you receive!!!It is also the only one that provides these fantastic submission opportunities and empowers you to do all sorts of extraordinary things. Our courses have been described as the equivalent of 20 conferences and better than graduate level university programs from students with kid lit master's degrees.

If now is the time to take your career to the next level and get started with your bonuses asap....
The Big Bonus includes the FULL COURSE PLUS ALL THE BONUSES, THE INTERACTIVE FACEBOOK GROUP WITH OPTIONAL CRITIQUE GROUPS, PLUS THE WEEKLY CRITIQUES! Simply Click here or on the button below!

Click the graphic below or click here to Register for the even more awesome Success with Hillary package, WHICH INCLUDES EVERYTHING IN THE BIG BONUS PLUS A ONE-HOUR LIVE CRITIQUE FOCUSED ON YOU AND YOUR WORK. PEOPLE RAVE ABOUT THESE!!! DON'T FORGET THE MGMAGIC CODE TO SAVE A SWEET $70.00


THE SUCCESS WITH RACHAEL PACKAGE IS THE SAME AS HILLARY'S PACKAGE BUT WITH A MAGICAL ONE-HOUR CRITIQUE WITH RACHAEL STEIN! CLICK HERE OR BELOW TO SCORE ONE OF THESE! DON'T FORGET THE MGMAGIC CODE TO SAVE $70.00!


DITTO FOR A SUCCESS WITH MIRA PACKAGE. THERE ARE ONLY A FEW OF THESE WITH THE EXTRA $100 DISCOUNT SO GRAB ONE WHILE THEY LAST! SIMPLY CLICK HERE OR BELOW! DON'T FORGET THE MGMAGIC CODE TO SAVE $70.00

Middle Grade Mastery only happens once a year in the comfort of your own home, at your own pace (except for live webinars which are also recorded) and with the convenience of easy payment plans that make the whole thing affordable.

We want you to join us and play in ways that you can't imagine right now to open new doors to publishing. Middle Grade novels are hot, hot, hot. They're the number 1 thing that many agents are looking for. Middle Grade novels pay much better than picture or chapter books and are more likely to be made into movies. Both Chapter Books and Middle Grade novels enable the writer to spend time with their characters and go deeper into their lives and world. Ideas can be more complex as can story lines, which can be a huge asset for writers who feel constrained or limited by short simplified picture book conventions.
We hope that you will join us on this extraordinary, creatively empowering adventure!

Frequently Asked Questions
What kinds of formats will there be?
Most of our courses are a combination of lessons, worksheets, and interviews with experts. Sometimes these are in video format, other times not. With interactive courses, there is also a very active Facebook community page and weekly critiquing webinars, making it very lively and lots of fun. It is a multi-modal approach that works well for different people's learning styles.
Who will benefit from this class?
Anyone who has a passion or interest in writing or illustrating books for children.
When does the class start?
If this is an instant access course, access starts today for a full year. If it is an interactive course, the dates will be towards the top of the page with 6 months of additional access, which often ends up being much more. Interactive courses also often include an e-book of course materials.
Are there any specific time requirements?
No. The only time sensitive areas are if you are in an interactive course and want to submit your work for a live webinar critique, there is a specific deadline, and if you join one of the optional critique groups you need to honor your group's critiquing timeline. The weekly webinars also happen at a specific day and time provided in advance, but if you can't make it live, they are also recorded for later viewing.
Do you offer refunds?
We are so sorry, but there are no refunds. Because we give bonus passwords or access to the course at the time of purchase, it is impossible to offer refunds. We appreciate your understanding. However, we do offer a 100% learning money back guarantee for interactive courses, that if you read the lessons, participate and do the work, and at the end of a year, don't feel that you learned a lot, we will refund your money in full.
What do I do if I have further questions?
You can email Mira directly at mira@childrensbookacademy.com with the title of the course in the subject head.