Now OPEN FOR 2019!!! The Andrea Davis Pinkney Merit Scholarships for our MIDDLE GRADE MASTERY COURSE!
PLEASE HELP MAKE A DIFFERENCE & SPREAD THE WORD


---
Because we had so much demand for a middle grade course with all the features that people have come to expect from the Academy, like masses of insightful, inspiring, and empowering information, lots of individual attention, Golden Ticket skip the line submission opportunities, interviews with experts, weekly live critiquing webinars, and students vastly improving their skills and publishing opportunities, Hillary Homzie and I created the ultra fabulous Middle Grade Mastery course starting soon. And now to sweeten the pot even more, we've added the brilliant Rachael Klein, Sterling Children's Books acquiring Editor to join the fun and help each student in this course.
AND NOW ARE STUDENTS ARE PUBLISHING WONDERFUL BOOKS!!!
Middle grade novels are in demand because they bring in more money for agents, writers, and publishers and are also more likely to be made into movies. They are also lots of fun to write because they enable writers to go deep into their characters, language, and have more than one plot. If you are a picture book writer writing a middle grade novel is about the equivalent of 6 picture books but with a much greater return. Don't be nervous, we make it easy and accessible.

And because we adore Andrea Davis Pinkney, we are continuing to honor her with half and full scholarships for this awesome course! Wahoo!!!
*Right click and download the image below to share with your friends!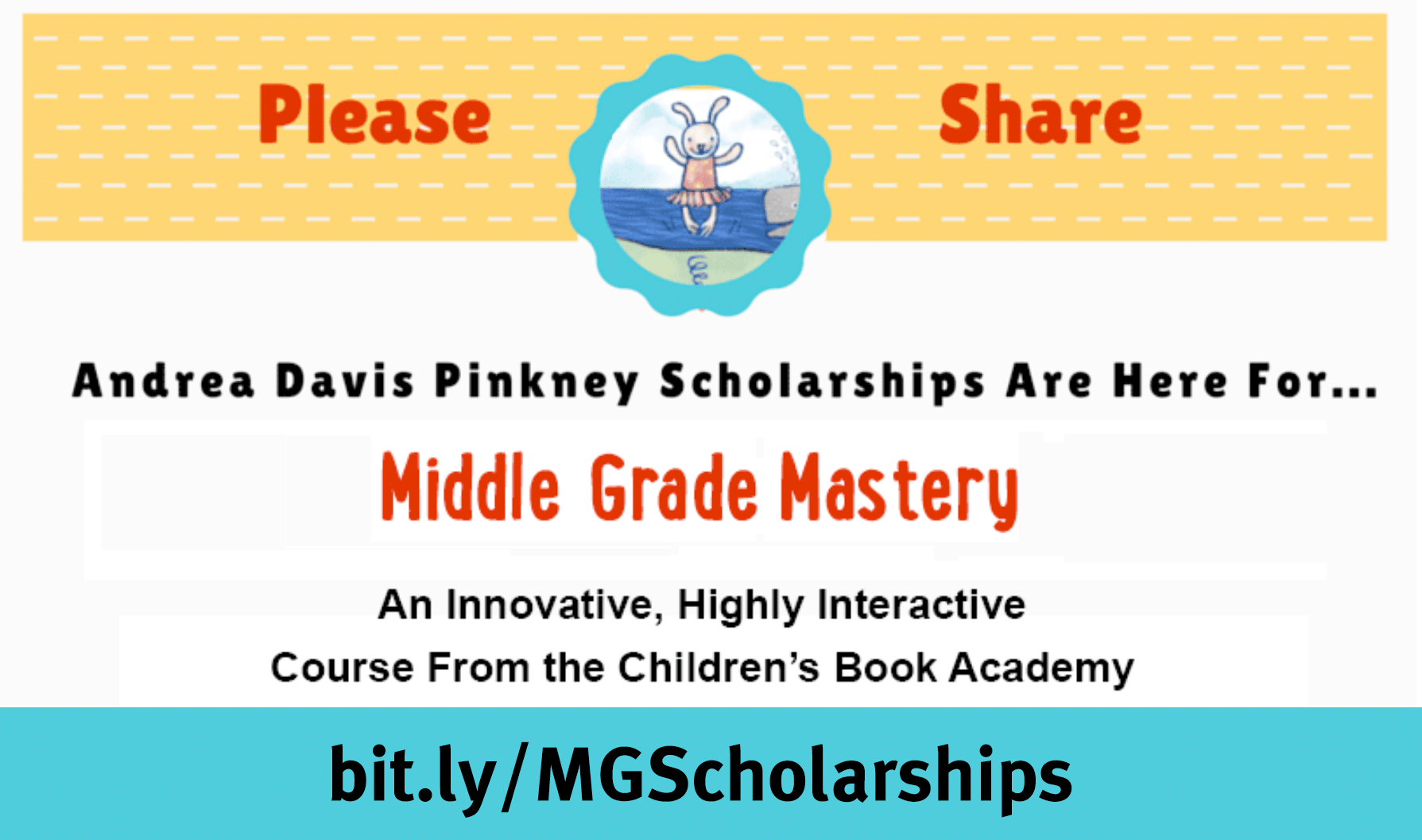 Applicants need to:
Fill out the short form

Be committed to and excited about writing truly exquisite texts for children's books and want to contribute to the field to help make a better world through children's books, whether it's just by creating more delight or by skillfully and subtly integrating social justice themes in your work.

Commit to participating fully in the course by availing yourself of the course materials and participating in the private Facebook group and help get the word out about this exceptional course.

Write a brief description of yourself, your background, and why you'd like this scholarship. We LOVE creative well-written pitches.

Let us know what you'll be working on in the course

Let us know if you are already agented, published or have a website

Share your personality

Be as brief and appealing as you can
If you're interested in finding out when this scholarship is open again, please Join Our Tribe
Because we support WeNeedDiverseBooks and have supported this concept since beginning my publishing career with Children's Book Press in early 1988 helping MANY diverse writers and illustrators publish, the Children's Book Academy is proud and excited to offer scholarships for writers and illustrators of color, or identifying as LBGQT currently underrepresented in the children's publishing industry for our upcoming Interactive online Middle Grade Mastery e-Course starting soon! We want to help support increased diversity in the field to improve cultural representation so that it reflects the true make-up of the United States and helps make a more just and loving world!
We are also offering scholarships for low income folks, who might not otherwise be able to take this course, folks who identify as a person with a disability, as well as scholarships for SCBWI Regional Advisers, Assistant RAs and Illustrator Coordinators and librarians who do so much unpaid work to help our field.
We hope that you will share our initiative for social justice by sharing the link to this page.
Easy Peasy Scholarship Criteria Applicants Must Represent the Following:

Be a member of an ethnic minority, or identify as LGBQT, or having a disability,, or one of the other criteria listed above.
Be excited about making middle grade novels or chapter books and contributing to the field to help make a better world through these books whether it's just by creating more delight or by skillfully and subtly integrating social justice themes in your work
All applicants must write a 40-60 word description of themselves, their background, and why they'd be a good candidate for this scholarship
Writers must compose an up-to 70-word descriptive pitch for the middle grade novel or chapter book that they'd like to work on during the course
Illustrators must include a link to their website
Let us know if you are already agented and/or published
Let us know how you will give back to both your fellow students and the Children's Book Academy
Applicants please complete the short submission form here 
If you're interested in finding out when this scholarship is open again, please Join Our Tribe
---
About the Fabulous Andrea Davis Pinkney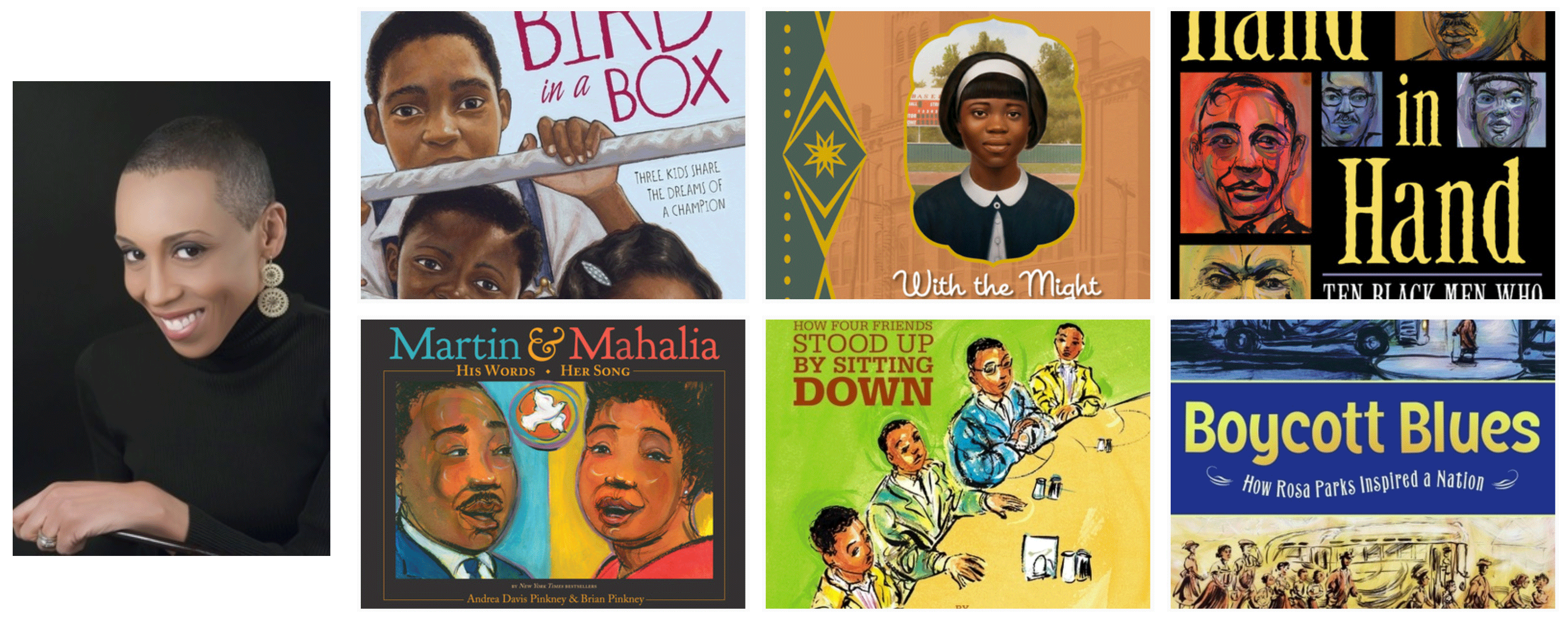 Andrea Davis Pinkney is the New York Times bestselling and award-winning author of more than thirty books for children and young adults, including picture books, novels, works of historical fiction and nonfiction.

Andrea is also Vice President, Executive Editor at Scholastic books. She was named one of the "25 Most Influential Black Women in Business" by The Network Journal, and is among "The 25 Most Influential People in Our Children's Lives" cited by Children's Health Magazine.

Andrea has been selected to deliver the 2014 May Hill Arbuthnot Lecture. This honor recognizes her significant contributions to literature for young people provided through a body of work that brings a deeper understanding of African American heritage.

Andrea's recent nonfiction work, Martin & Mahalia: His Words, Her Song, is a NAACP Image Award nominee. Hand in Hand: Ten Black Men Who Changed America is the recipient of the 2013 Coretta Scott King Author Award medal. Additionally, and has received several starred reviews, including those from Publishers Weekly and Kirkus Reviews, and was hailed by the New York Times as a "beautifully written. . . fascinating" book. Hand in Hand: Ten Black Men Who Changed America was named a New York Times Notable Book and a Chicago Public Library "Best of the Best."
Bird in a Box, Andrea's recent novel, was a Today Show Al Roker Book Club pick. Her picture books include the New York Times bestseller Sit-In: How Four Friends Stood Up By Sitting Down, a Jane Addams Honor Book, winner of the Parenting Publication Gold Medal, and winner of the Carter G. Woodson Award; Sojourner Truth's Step-Stomp Stride, a Jane Addams Honor Book and School Library Journal "Best Book of the Year," the Coretta Scott King Author Honor Book, Let it Shine: Stories of Black Women Freedom Fighters, which also won the Carter G. Woodson Award for historical works for young people; Duke Ellington, a Caldecott Honor and Coretta Scott King Honor Book, and Boycott Blues: How Rosa Parks Inspired a Nation, an Oprah Radio featured selection.

During the course of her career, Andrea has launched many high-profile publishing and entertainment entities, including Hyperion Books for Children/Disney Publishing's Jump at the Sun imprint, the first African-American children's book imprint at a major publishing company; the hugely popular Cheetah Girls series, and the teen book Serving from the Hip by world-class tennis pros Venus and Serena Williams, an Oprah featured selection. Andrea has requested to be notified about the scholarship winners.
A Little About Racial Diversity in Children's Books.
While we offer scholarships to all individuals who identify as being in the groups mentioned above, the statistics on racial representation in children's books are incredibly disheartening. And while some folks (i.e. Anglo people) genuinely believe that we've moved beyond this into a color-blind society, the reality of this is simply not true.

Here Are Some Links That I Hope You Will Explore.

There are so many blog posts out there about this issue. When I met with some editors in NY, I learned something super interesting. There are two main reasons that publishers are not publishing the kinds of books that we all need to truly help get to a color blind society and that is not enough people buy diverse children's books and that many people of color who have not had the kinds of educational opportunities that middle class white folks have had with 2 generations or more of university graduates behind them, don't always have the skills needed.
And if they do have the education, they may need to go into higher paying fields. Hence these scholarships and a request to help support diversity by buying diverse books. :) Here's a wee graphic from Lee and Low.
---
We are thrilled to have offered the Andrea Davis Pinkey Scholarship to so many winners for either a full of half-off scholarship to the fabulous Middle Grade Mastery interactive e-Course with award-winning author and co-teacher Hillary Homzie and acquiring Sterling Books for Children Editor Rachael Klein.

---
If you're interested in finding out when this scholarship is open again, please Join Our Tribe
---
Congratulations to Our 2018 Winners:


Reba Khatun, H. Cherndon Bedford, Rosalind Malin, Araceli Lopez, Samantha Gower, Andrew Sass, Erica Garcia, and Kathryn Otoshi
Congratulations to Our 2017 Winners:
Michele Cusolito, Liliana Erasmus, Katherine Maria Frazer, Sherry Howard, Hagit Oron, Sarah Romero, Liliana Samica, Shirin Shamsi
Congratulations to Our 2016 Winners:
Yvette Pompa, Anne Wagner, Ave Maria Cross, Wendy Kitts, Quintyn Hobbs, Lisa Ramos, Robin Pizzo, Hannah Gomez, Faith Knight, Hope Lindsay, Jennifer Polish, Ashley Franklin, Suma Subramaniam, Sonia Rodriguez and Huy Chung!!! Wow!!

---
Here are our winners from Hillary and Mira's 2015 Chapter Book Alchemist course, which is now a self-paced instant access course here.
Congratulations 2015 Winners:
Priya Gopal, Dina Tate, Leslie Helakoski, Leah Schanke, Amy Metz, Natasha Tarpley, Maria Gabriela Aparentad, Hana Yoo, Patience, Mensah-Bonsu.
Some of the applications were so beautiful that they brought tears to my eyes or they made me laugh out loud. And for the ones that didn't win, it might have been because of too many typos, or not all the fields were filled out, or because there was another submission that was similar or because the winner had a really creative approach. So please don't take it to heart and do apply again in the future. I spoke personally with each scholarship winner and it's terrifically exciting what each of them will be bringing to the course. To find out more about the course click here!

We hope that when these scholarships open again, you will give it a go and apply!