Hi there, it's Mira Reisberg here and I'm excited to share about one of my favorite new concept books Go Girls Go! written by Doubleday Children's Editor in Chief, Frances Gilbert, and illustrated by Allison Black. I had the pleasure of meeting Frances when I invited her to join us in one of our picture book writing courses and I saw how incredibly kind and smart she was and how the students who worked with her in individual critiques raved about her. So when this book came out, I had to buy it. When I initially looked at it, I thought, well that's a cute, fun girl power book with great art, but then I dug a little deeper and saw how brilliant it actually is for repeated readings.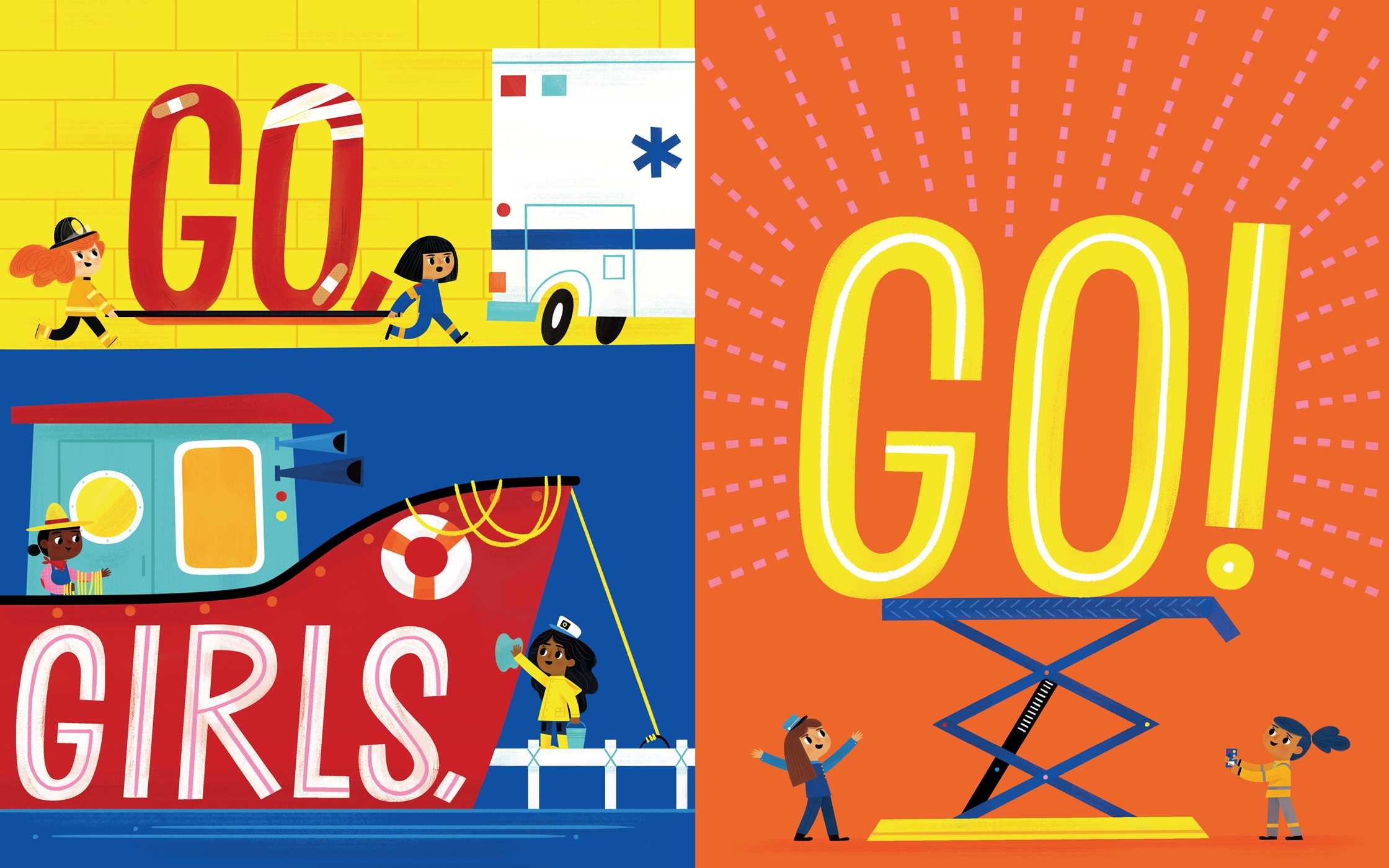 Go Girls, Go! not only shows the different kinds of vehicles that girls can drive but also what they do with those vehicles as careers. It also explores the concept of perspective itself in the way that it is set up with distance, close-up, and yet another perspective of actually working in and with those vehicles on three "must turn the page" spreads. I love how Frances uses super-fun, simple rhymes and onomotopoeia (those fun "sounds like the action" words that adults love saying and kids love hearing) and I also loved the art.
Before I show the video, I want to give a heads up for illustrators that this book is a brilliant example of using plain geometric shapes to build and make much more complex objects and how much fun, and easy to do, simple color blocking can be when done well to create stunning illustrations.
And another heads up, I'm super excited to be co-teaching a live illustration e-course with Houghton Mifflin Harcourt art director Andrea Miller starting January 13th and will definitely be showing this book ias part of it. Click here to find out more about this game-changing course for beginners to award-winners, and click here to see more of Frances's books.

And now for our video review/sneak peek:
About Mira
Dr. Mira Reisberg has a PhD in Education and Cultural Studies with a focus on children's literature. She is an acquiring Editor and Art Director at Clearfork/Spork and is also the Director of the Children's Book Academy. Her students have published over 370 books and won ever major North American award. Mira's 8 published children's books have won awards and sold over 600,000 copies. She has previously worked as a university professor teaching children's literature, cultural studies, and art education courses and as a literary agent. Mira lives in a 100 year-old house in Portland, Oregon with her husband and two cats.