People sometimes wonder how an illustrator is matched with a manuscript. Well, read on dear reader to find out how with a wonderful example and a short video review.
Usually the editor selects the illustrator for a manuscript together with an art director, or sometimes on their own. Often the art director will come with a selection of possible illustrators' samples who might be a good match for the manuscript that they both select together.

In the case of Crow Spirit, written by Debra Bartsch and illustrated by Gail Abary, I got to do both. Whenever possible, I acquire my students work because I know they're well trained, and I have a good sense of what they're like to work with, plus I tend to fall in love with my students. So who can blame me for wanting to keep working with them and in this case it was a gift to work with both Deb and Gael on this book.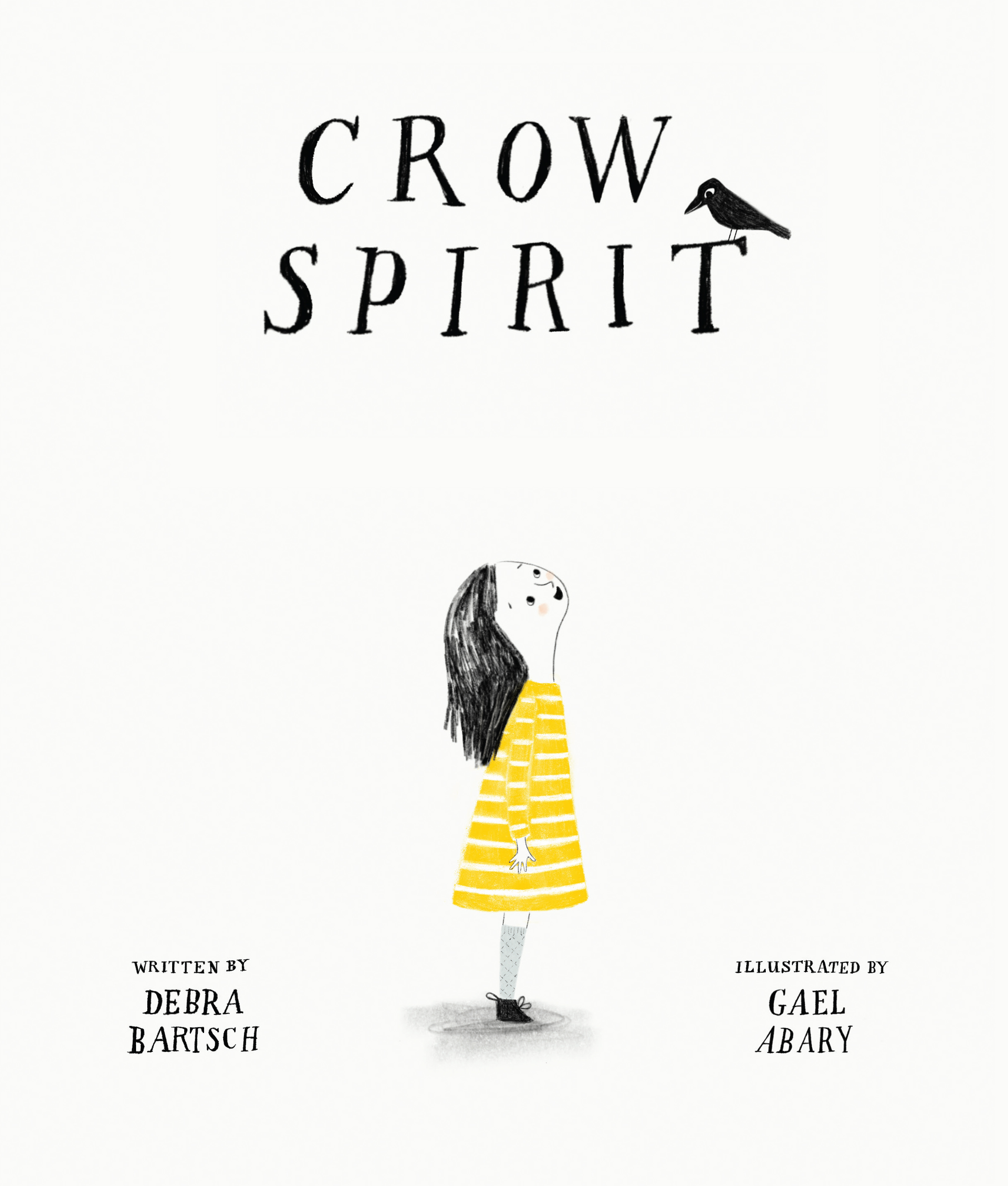 Crow Spirit is a beautiful, soulful, story about a little girl's connection with her grandmother through the family's connection with crows. It's based on a true story by the author and has a spiritual element to it as well. Spork publisher, Callie Metler-Smith, and I acquired this story because we both loved the beauty of it as well as its quirkiness. It resonated for me personally, because when I was 12 my mom died. At her funeral a crow flew out of the earth when they were lowering her casket and watched from a tree branch as my father tried to throw himself into the grave and I barely held myself together. That crow really help me then, and the crows in this story might help other children deal with loss as well.
Apart from the theme of the story, I also love the quirky childlike language-- beginning with:

I was walking home from school by myself for the first time and I was a bit scared. I stood at the crosswalk, and there on the other side of the street was a CROW!

I saw him there, just like he was waiting for me.
What a great way to introduce the reader to these two characters. There's lots of beautiful language throughout this book. Here's another example from later on:

Mama sliced some juicy peaches and blueberries, and passed a snickerdoodle cookie, just like grandma used to make. "Your grandma always had a special connection with those birds," Mama said.
The rhythm of those foods multisyllabic names, peaches and blueberries and passed a snickerdoodle cookie, just makes my spirit sing.
Now getting back to matchmaking the author and illustrator.
Carrying the spirit of the story's underlying message of dealing with loss through hope and connection while also playing with the subtle humor required an illustrator who could handle this. The other selection criteria I use when choosing an illustrator for a manuscript, besides how compatible their style is with the feeling of the story, is how easy they are to work with. Most editors and art directors are really overworked so it's very important that an illustrator be receptive to making the inevitable changes with a good attitude and have the skills to pull it off – hence Gail Abary.
I really think this author/illustrator combo was a match made in heaven in this pretty much perfect book with both the author and the illustrator bringing their gifts and hard work to play matching each other in tone and spirit and beauty. I hope you'll buy Crow Spirit and keep it as a mentor text for yourself and/or read it to your kids if you are a parent, an aunt or uncle, or teacher. There's so much to love about it. Here's a short video review, followed by some handy links.
Here are the handy links I promised! You can purchase Crow Spirit directly from Clearfork Publishing/Spork right here or on Amazon. or ask your local bookstore to order it for you.

xoxo
---
Mira Reisberg has helped MANY authors and illustrators get published wearing just about every hat in the industry including art director, editor, illustrator and author, and literary agent. Mira holds a PhD in Education and Cultural Studies with a focus on children's literature. She is also an award-winning children's book illustrator and writer. Most of all, Mira loves nurturing her own and others creativity. Find her on Facebook here.